Difference between revisions of "Termux Wiki (на русском)"
From Termux Wiki
---
Revision as of 14:53, 2 May 2019

The Termux Wiki
Termux - эмулятор терминала и среда Linux для Android, Chromebook и Fire OS.
Введение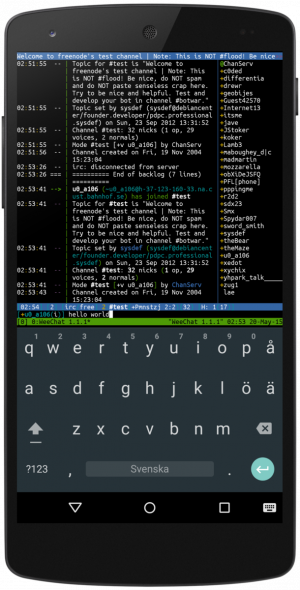 Termux - приложение реализующее Linux-подобную среду взаимодействие с которой происходит посредством консоли без необходимости иметь root-права на устройстве.
Минимальный набор программ устанавливается автоматически, дополнительные пакеты можно установить при помощи пакетного менеджера APT.
Как пользоваться приложением.
Работа с программной средой (пакетами).
Использование аппаратной мыши и клавиатуры.
You can install Termux from F-Droid.
Google Play versions are deprecated
Main Article: Termux Google Play
Since 2 November 2020, we are unable to publish new versions on Google Play. Please use Termux from F-Droid.
Summary about Google Play Termux issues:
Outdated repository URLs which lead to HTTP 403 and 404 errors.
No application and add-ons updates anymore.
Application has known issues which are fixed in F-Droid builds only.
See Also
Дополнения
Termux has some extra features. You can add them by installing addons:
Access Android and Chrome hardware features.
Run script(s) when your device boots.
Run Termux in a floating window.
Have color schemes and powerline-ready fonts customize the appearance of the Termux terminal.
An easy way to call Termux executables from Tasker and compatible apps.
Start small scriptlets from the home screen.
FAQ
Часто задаваемые вопросы об использовании Termux
Читать далее...
Community
Не нашли решение в FAQ ?
Просто хотите познакомиться с нами ?
Хотите помочь разработчикам и пользователям Termux, внося свой вклад в проект ?
Посмотрите страницы сообщества. Будь то для удовольствия или серьезной работы, пожалуйста, присоединяйтесь к нам.