Talk:

Main Page
From Termux Wiki
The Termux Wiki
Termux is a terminal emulator and Linux environment for Android and Chrome OS.
Introduction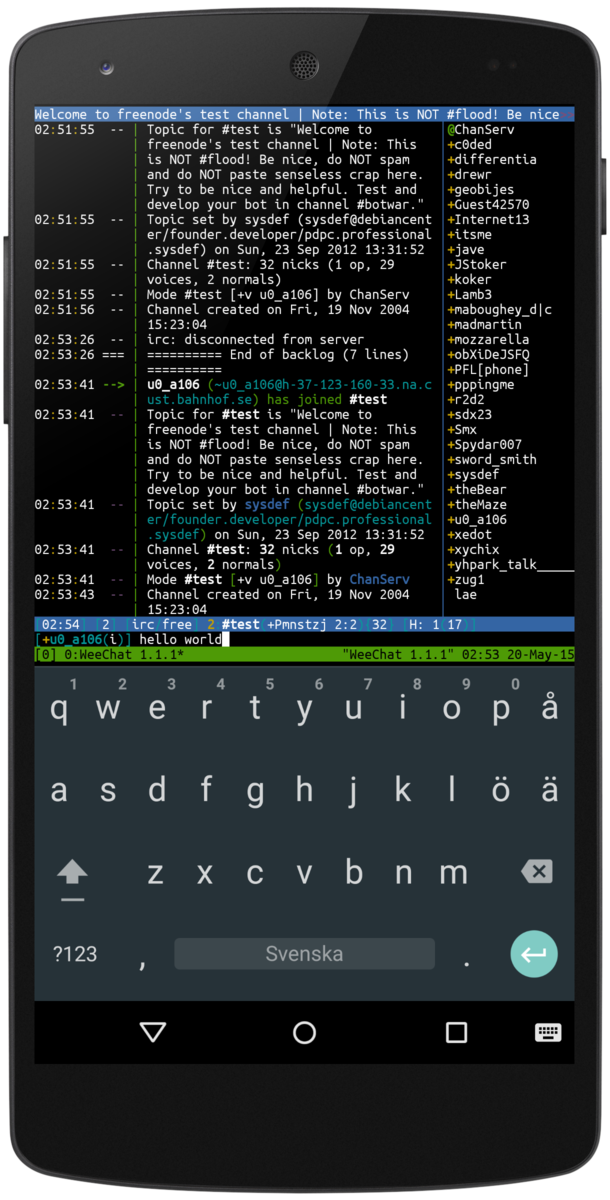 Termux is an Android terminal emulator and Linux environment app that works directly with no rooting or setup required. A minimal base system is installed automatically; Additional packages are available using APT package manager.
How to use the app.
How you can install more software.
How to use an external keyboard and mouse.
Verander deze sectie naar het volgende. Zoals ik was veranderd op onze wiki de vorige dag in elke api-subsectie.
Change this section to the following. As I had changed on our wiki the previous day in each api subsection.
Installation
Important: Do not mix installations of Termux and Addons between Google Play and F-Droid. They are presented at these portals for your convenience. There are compatibility issues when mixing installations from these Internet portals. This is because each download website uses a specific key for keysigning Termux and Addons.
--Ux (talk) 03:20, 7 December 2017 (CET)

Easily install this enlightening application in Android, Chromebook and Fire OS. --Ux (talk) 00:38, 29 November 2017 (CET)
"This is because each download website uses a specific key for keysigning Termux and addons." > "This is due to each download website using specific keys for keysigning Termux with it's corresponding addons."

The source links are important even though the pages themselves have to be built yet. Think of these links as beacons. A direction waiting, if they are not there, no apparent direction to go in. Thank you for updating this page.
See Also
Termux has some extra features. You can add them by installing addons:
Access Android and Chrome hardware features.
Run script(s) when your device boots.
Run Termux in a floating window.
Have color schemes and powerline-ready fonts customize the appearance of the Termux terminal.
An easy way to call Termux executables from Tasker and compatible apps.
Start small scriptlets from the home screen.
Frequently Asked Questions about Termux
And more...
Questions after reading the FAQ? Just want to get to know us? Can you help Termux developers and users out? Check out the community pages. Whether just for fun or serious work, please join us.
--Ux (talk) 08:56, 25 October 2017 (CEST)👷 --Ux (talk) 04:55, 21 October 2017 (CEST)👷 --Ux (talk) 05:16, 21 October 2017 (CEST)✨